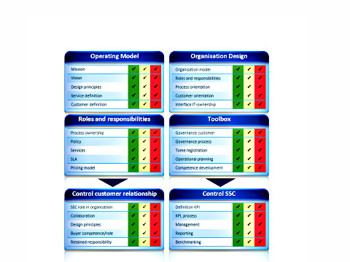 Value Assessment - Shared Service Center
Many Shared Service Centre organizations and centralized support functions are about to embark on a second phase, after "bringing home" initial gains. Focus then is on optimizing processes, establishing a culture that supports continuous improvement and continuing to create new values for the entire organization.
PS Provider has developed a model for Value Assessment that helps companies and organizations to identify strengths and weaknesses in their SSC and provides a step-by-step plan for improvement. We map, analyse and evaluate the status of your processes and the organization's state of health. From this, we develop a plan that clearly shows you, step-by-step, how to optimize your performance.
Execution
The model that PS Provider uses for Value Assessment utilizes our existing methods and extensive experience in establishing and streamlining Shared Service Centres and administrative processes. By using the model, you get a very high leverage on established tools and improvements. Our goal is to try to "fast forward" traditional methods and provide our customers with detailed and specific results to achieve a world-class support role. Our method analyses your shared-service model from the following perspectives:
leadership
organization
processes
employees,
customer relations
tools and support
overall goals
management and control