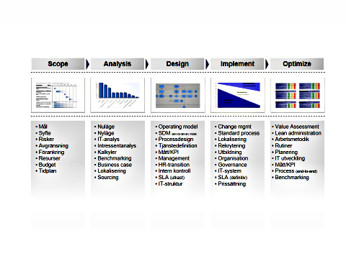 Establishing Shared Service Centers
Based on our years of experience PS Provider supports its clients in the process of establishing and developing Shared Service Centers, based on a proven model, which works whether it is a specific process or a full-scale implementation in areas such as Finance, HR, IT and Procurement. We provides support throughout the process from feasibility study and business case all the way through to analysis, design and implementation and finally to continuous optimization.
Have you considered any of the questions below? Is there a need to:
Start developing your business support functions?
Improve Service Levels and/or streamline your support processes?
Change your support processes to meet the increasing external demands?
If you answered yes to any of the questions above, you probably recognize yourself in one or more of the following statements:
There is no critical mass or economies of scale in the organization. Different support functions have different systems, procedures and skills to manage the processes. This means that only a fraction of the potential economies of scale are utilized.
The geographical spread makes the business vulnerable and difficult to grasp and consumes a lot of resources for control and error handling.
Another consequence is that the administrative processes are not optimized, standardized or documented.
The relationship between the services that your support functions deliver and the expectations and needs of the rest of the organization is not in balance.
Interfaces, roles and responsibilities between the support function and the organization are unclear, inadequately defined and poorly documented.